In a perfect world, every day would be Saturday. Sleep in, and stay up late, and have the whole day to do whatever you want. The toughest decision you make is what to wear, and the soundtrack to your life would be from Ferris Bueller's Day Off.
However, most of us can't live that way. We are constantly juggling work with a fraction of fun, and realistically, it's the two days off at the end of the workweek that we believe make up for our stress.
There's hope though, it is possible to make every day feel like the weekend, but you have to be willing to make a few other changes, and the payoff is totally worth it.

Hate Your Job? Quit.
Money is always going to be a problem, whether you're sitting on top of a mountain of savings, or living check-to-check, there isn't any sense in hating what you do if you're spending an average of 40 hours a week there.
Money should never be the reason to stay at your job, if you hate it. Waking up unhappy and unmotivated to go to work will exhaust you mentally and physically, it's also worse than not being able to buy all the fancy things you like.

Find A New Job (Hint: Do What You Do In Your Spare Time, And Get Paid For It.)
Odds are, you're good at the thing that you do when you're procrastinating. And someone much wiser than myself has given that advice, and it's good as gold. Do you doodle in your spare time? Become a graphic designer. Do you waste hours on social media, and are you really good at it? Become a social media specialist. Learn how to harness your hobbies that thrill you, in a way that you can get paid for it. This way, it will never feel like work, which supports our never-ever weekend goal.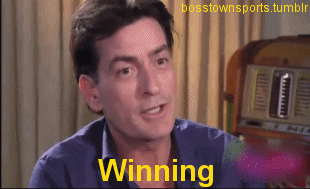 Turn Whining Into Winning.
I'm not sure what the science is, but there is definitely science that supports a negative mind promotes negative company, and negative company promotes a negative attitude.
Try to take control over your whining. "I hate driving in traffic", guess what? So does everybody else in the world. All complaining is going to do is attract more negative people to join you in your pity party, and then you're going to get stuck in a rut of negativity. Cut and run!
Instead of starting your day with a complaint, try focussing on something positive like "I can't wait to eat that sandwich I made for lunch!"
Soon you will be surrounded with like-minded positive thinkers, who look on the bright side of things and you will then be part of a more sunny disposition, which people tend to have on the WEEKENDS.
Start Every Day With Your Favourite Song
Just. Do it. It will start your day on a happy note, and the odds of the rest of your day being upbeat are greatly increased. Also, having a good song stuck in your head is far better than having one stuck in your head that you hate, but it just happened to be blasting on someone's car radio on your way to work.

Cut The Fraying Cord.
Start to do some inventory of the things you complain about. Do you hate sitting in traffic? Maybe start looking at moving into a neighbourhood that's closer to where you work. Or check the bike routes to work, the endorphins released from getting a bit more exercise when you start your day will be convincing enough that things aren't so bad after all. Or how about the boy/girlfriend? Are things getting sour? Is it getting you down? Maybe think of an alternative. Any change you can make to your lifestyle to promote happiness will make every day feel better, and then they'll all feel like weekends.