Oh, you shouldn't have. Really… You SHOULDN'T have!
We've done the legwork, and just in time for Christmas shopping. The RentMoola team has sifted through our dusty memories of what we believe to be the WORST Christmas gifts ever received. I present to you, hand crafted and elegantly wrapped…
The Top 10 
Worst

Christmas Gifts EVER:
#10. Underwear.
Nothing says AWKWARD FAMILY MOMENT like opening unmentionables in front of your loved ones on Christmas morning. I speak from personal experience, DON'T DO IT! I suggest purchasing a gift card, as they're easier to conceal from on-looking parents.
#9. Hair removal kits.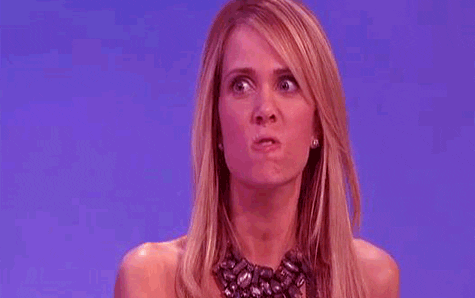 I feel like this is far too obvious to even mention, but unfortunately, it has happened before so it must be addressed. Simply put, winter is a cold time of year, and if women want to go months at a time without shaving their legs, consider it a survival mechanism. This is not an invitation to purchase hair removal kits on their behalf. If you are close enough with your loved ones to give them a "No No", then you're close enough to politely ask them to shave. End of story.
#8. Garden gnomes.
Alright, let's be honest, sometimes garden gnomes are alright. But for the most part they're creepy and they are definitely not Christmas material. Nobody wants to be rooting around in their garden in the snow and/or slush trying to find a good place to put their strange new garden gnome. And don't even bother trying to get a Christmas themed garden gnome, because it will likely be forgotten and nothing is tackier than year-round Christmas decorations. Avoid this gift!
#7.  An Apple Cozy.
So basically this is a sweater that you put on your apple to stop it from getting bruised in your lunch box on your way to work. First of all, do adults use lunch boxes? Second of all, if I ever saw someone with an apple cozy I would assume that they have cats. Lots of cats. So many cats that you can see them from space.
#6. Affirmation CD's and Self Help books.
Sure, if you're buying someone a Christmas present that probably means you love them, or care about them, or maybe you just drew their name out of the secret santa hat at work. Regardless of how you know this person, Christmas is a time to spread happiness and cheer, not remind people of their problems. If they are in need of a self help book or an affirmation CD (a CD of one-minute long affirmations to help people stay happy) you may as well give them a hug and the number for counselling services.
#5. Anything that helps you clean.
"Oh look! What a great deal on a caddy full of every different type of cleaning solution! They'll love that! That is such a thoughtful gift to give, because when I think of them, I think of cleaning supplies."
… See how ridiculous that sounds?
#4. Obviously cheap and thoughtless gifts.
So this title is a little vague, which is why I will attach a story to it for clarification. A man, let's call him Steve, decides this year he's going to really spoil his girlfriend's family for Christmas. For her brother, he bought a classy wine decanter and a really great bottle of red wine to go with it, knowing that he was a wine enthusiast. In return, Steve got a calendar. A calendar that comes free with a $5 purchase at the local drugstore. Ouch.
#3. A Lunar Legacy.
So apparently the Google Lunar X PRIZE space shuttle will deliver a photo and message of your choice to the surface of the moon, where it lies among a community of other moon-bound photos and messages. This is a relatively cool concept, but at the end of the day, you just gave someone a gift that they can't see, read, or touch. And if you're more comfortable rocketing your emotions into the vacuum of space than expressing them to your loved ones, you may need to re-evaluate your relationship with that person.
#2. Condoms.

Another one I didn't expect to have to explain, because, well, really? Condoms? I can't speak from experience, but this sounds like one of the more traumatic experiences a person could go through. Unless this is a joke, this is not okay. When you look back on Christmas mornings, you shouldn't wince.
#1. Tombstone decorations, or anything to do with a tombstone.
Merry Christmas! Here's a gift for when you die! Not only is this a gift that this person will never be able to actually do anything with for the rest of their life, it's also creepy and morbid.
Hopefully this list has shed some light on what can be a very complicated process (Buying Christmas presents). Leave a comment below if you've ever received a cringeworthy Christmas present, maybe you'll save someone from an awkward experience.
RentMoola believes in living hassle-free, and that includes being hassled by your loved ones when you get them a crappy Christmas present.
From all of us at RentMoola, happy renting, happy shopping, and
happy
holidays!